Monat:
Oktober 2015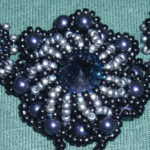 Ein weiteres Mal konnte mich eine Anleitung von Trinkets begeistern. Die Kette ist einfach traumhaft schön und die Anleitung sehr leicht beschrieben so das es keine nennenswerten Probleme beim Nacharbeiten gab. Die Anleitung gibt es hier: Sahara Sunset
Materialien: Swarovski Perlen 4mm Night Blue, Swarovski Bicone 6mm Dark Indigo, Swarovski Rivoli 12mm Montana, Miyuki Rocaille 11 Black und Galvanized Green Steel, Miyuki Rocaille 15 Metallic Variegated Blue Iris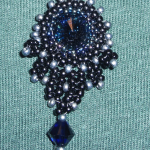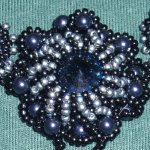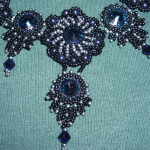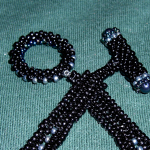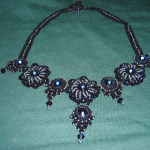 Zum ersten Mal habe ich mich an einem Armreifen, einem sogenanntem "Bangle" versucht. Ich denke das Ergebnis kann sich sehen lassen für den ersten Versuch. Die Anleitung stammt aus der Beadwork von August und wurde von Lisa Kan entworfen. Es ging wirklich ganz einfach von der Hand und ich denke es werden noch ein zwei Armreifen folgen. Ausgestopft habe ich den Reifen mit einem Stück Aquarienschlauch den ich meinem Mann gemopst habe.
Verwendete Materialien:
Super Duoa in Aquamarine Traventin, Opaque Green Ceramic Look, Opaque Dark Saphire Traventin, Blue Turquise Gold Luster, Miyuki Rocaille 11 Mat Metallic Patina Iris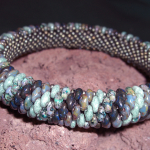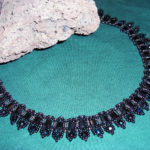 Eine wirklich einfach zu fädelnde Kette mit Tila-Beads die wunderbar am Hals anliegt und ein echter Blickfang ist. Das Tutorial bekommt man hier: To The Point
Die Tutorials von Sandra kann ich nur empfehlen. Sie sind günstig und die Beschreibungen sind leicht nach zu fädeln.
Verwendete Materialien: Miyuki Tila Beads Black, Toho 11 Black Opaque, Toho 11 Brown Opaque Rainbow, Glasschliffperlen 4mm von Rayher in Nachtblau AB